Dyslexia-cixelsyd My Unique Prospective.
by NkwNgr , Pro. El
(Liverpool )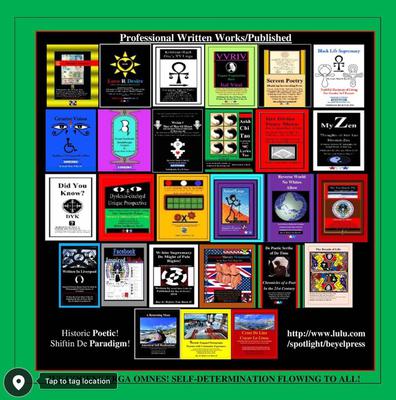 Historic Poetic Shiftin the Paradigm
Dyslexia-cixelsyd My Unique Prospective.

I don't know whether I will every beat dyslexia because I am now 51 and I am still struggling with it at times, especially without the computer spell check system. Around 1993 was the first time when I found out that I had the symptoms of a learning disability. Prior to that I'd struggle along doing my academic studies for machine shop engineering. I would late switched to Fine Arts Photography and even tried some Art Education teaching. Now I am in my mid-way point in life some will say, yet I am about to return to University to study for my MA in photography and I don't plan on stopping there, I will seek to obtain my PhD and prove to all that, the one they once thought was dumb have achieved one of his dream.

I was born in Jamaica and back then when one has learning issues often times others would be very abusive. I even got kick out of high school twice for failing to meet the academic standards. Some years later while attending the NYC School of Visual Arts, I got on the honour roll and was even offered a scholarship because of my academic excellent. Yeah, it was a surprise to me too.

Even more of a surprise is the fact that within the last 4 years I have written and published 27 poetry books and 27 ebooks. Oh yeah, a few spelling errors may be found in them, lol! Still it's an accomplishment many have yet to achieve.

I am not the best poet in the world and even though everyday I still struggling with dyslexia, I don't let it stop me from working towards my dream. Which is to one day establish my own art institutions one day..

NkwNgr, Prof. El
Join in and write your own page! It's easy to do. How? Simply click here to return to Overcoming Dyslexia Success Stories.